Bringing Us Together in a Deeply Divided Nation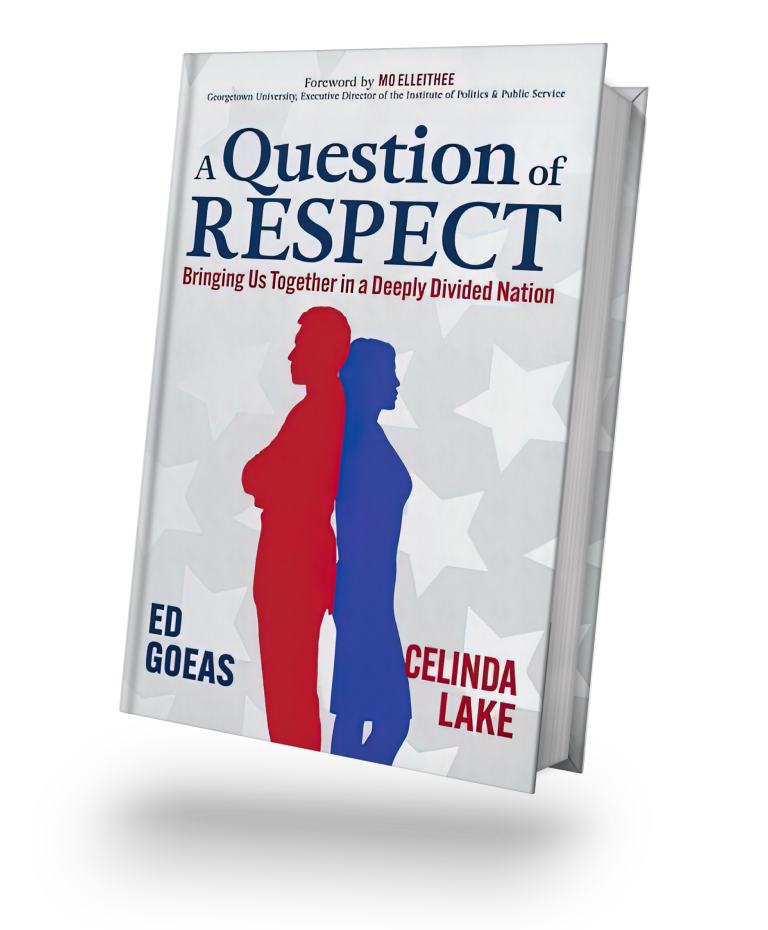 As our country fractures across ever-widening fault lines of anger and incivility, it's more urgent than ever for Americans to come together. Pollsters and political strategists Ed Goeas, Republican, and Celinda Lake, Democrat – unlikely allies in this current climate – have co-authored A Question of Respect to provide a political resource and a compelling case for how the nation reached this moment, where it needs to go, and what it will take to get there.
Goeas and Lake have developed a shared stethoscope on the pulse of the American public, having partnered for more than 30 years on their groundbreaking Battleground Poll. This book is the outgrowth of their shared mission to bring back respect.
Impacting Future Generations
A course based on 'A Question of Respect' is now being offered at Georgetown University
CELINDA LAKE
Celinda Lake was one of two main pollsters for the Biden campaign, is the only Democratic pollster to play a major role in defeating two incumbent presidents, and is a prominent pollster and political strategist for progressives. Celinda currently serves as President of Lake Research Partners. Lake's polling and strategic advice has helped candidates such as Representative Alexandria Ocasio-Cortez, Senator Jon Tester, Senator Debbie Stabenow, and former Governor Bob Wise to groundbreaking wins, and her expertise guided former Senator Mark Begich to victory, making him the first Senate candidate in Alaska…
ED GOEAS
For the last thirty years, Ed Goeas has been President/CEO of The Tarrance Group, one of the most respected and successful Republican survey research and strategy teams in American politics. They currently serve as the pollster for 30 current Members of the U.S. House of Representatives, 12 U.S. Senators, and 5 Governors. Over the last thirty years, the team at The Tarrance Group has elected serval hundred Members of the U.S. House of Representatives and U.S. Senators, and dozens of Governors across the country. In recognition of the number of winning campaigns… conducted by The Tarrance Group…

High Praise For

'A Question Of Respect'

And Its Authors...
INTEGRITY & PRINCIPLE
"Bringing Us Together in a Deeply Divided Nation" is a herculean task—massive in scope and in its expectation, yet fundamental to the survival of our democracy. Who better to address this threat than the team of Celinda Lake, a woman of intelligence and integrity and Ed Goeas, a man of principle and purpose?"
Valerie Biden Owens,
Author, Growing Up Biden Ed & Celinda: The Ideal People to Explain
ED & CELINDA: THE IDEAL PEOPLE TO EXPLAIN
"...despite their political differences, Ed Goeas and Celinda Lake are the ideal two people to explain not only how
we got into this mess, but how we can get out of it."
Donna Brazile
Former Chair, Democratic National Committee
PROVOCATIVE
"...In their provocative new book... they dissect what has made many American voters so cynical...."
Susan Page
Washington Bureau Chief USA Today
REMARKABLE
"In this remarkable book, A Question of Respect, Republic-based Ed Goeas and Democrat-based
Celinda Lake, ... diagnose our current civic ailments—and prescribe cures."
George F. Will
Author and Columnist for The Washington Post
OPTIMISTIC, ASPIRATIONAL...
"This powerfully optimistic, aspirational book will provoke readers... to a realistic reflection on how we got to
and how we can walk back from the political abyss currently plaguing all communities."
Mary Matalin
American Political Consultant